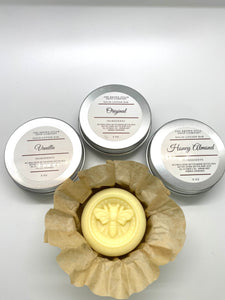 Our moisturizing solid lotion bars (solid body butter) is available in a easy to use hard bar!!
Includes 1 bar Choose your fragrance
Each bar comes in a 2 oz reusable Tin~ Simply hold the hard lotion bar in your hands to warm it up a bit then rub gently on any dry areas!
Great for hard working hands, helps seal in hydration to nourish your skin.
Easy to carry in a purse, pocket or bag!
Ingredients:  Bees Wax, Cocoa Butter ,Mango Butter, Shea Butter, Hemp Seed oil, Avocado oil, Vitamin E oil Arrow root powder.