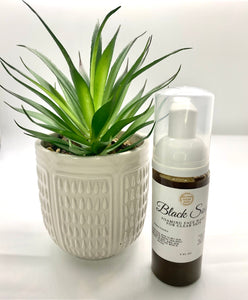 Benefits:  Our African black soap is suitable
 for all skin types.
African Black Soap helps to remove scars caused by acne ,rashes and skin irritations.
Anti-Ageing for skin! - Known to help reduce facial lines caused from aging.
Made from Raw Organic African Black Soap.
No chemical or preservatives added.
Great for removing makeup and black heads.
Deep cleanses pores and gentle on delicate skin.
Known to help with psoriasis and eczema.


Ingredients: Extra Virgin Coconut Oil, Raw Cocoa Pods, Unrefined Palm Kernel Oil, Plantain Skin Ashes, Unrefined Shea butter, Purified Water and Vitamin E: