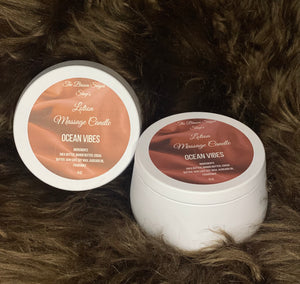 Our new 8 oz very moisturizing massage (lotion) candles will have your skin feeling soft and silky…
This candle contains a blend of Shea Butter , Cocoa Butter,Mango Butter, Avocado Oil and a Skin Safe Soy Wax that melts into a all natural massage oil to soothe muscles and soften the skin. scented with your choice of either an essential oil or a fragrance . This candle will leave your skin or that special someone's skin feeling very hydrated. Perfect for after a shower or a bubble bath.
Simply light and let the candle burn until the desired amount has melted, blow out the candle and pour warm oil into hands before use.. you can also place your candle on a wax warmer to melt if you choose not to light it..
*For external use only keep out the reach of kids *